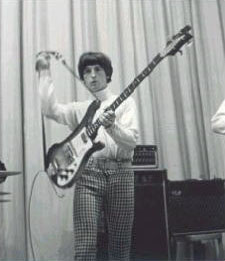 Peter Alexander Greenlaw "Pete" Quaife, a founding member of The Kinks who played bass with the band until 1969, died on 23 June at age 66 in Herlev, Denmark of kidney failure.
Growing up in North London, Quaife was a schoolmate of Ray Davies and his brother, Dave. They began playing rock and roll together in 1961. Along with the Davies brothers and drummer Mick Avery, The Kinks formed in 1963. Within a year they hit #1 on the UK charts with
the unforgettable "You've Really Got Me,"
a frenzied rock record that would prove an influence to countless bands to the present day. Numerous hits followed, no small feat when considering the competition at the time: most prominent of which were The Beatles, The Rolling Stones and The Who.
Pete Quaife left The Kinks in 1969 and worked as a graphic artist. He rejoined the band for a concert in Canada in 1981 as well as its induction into the Rock and Roll Hall of Fame in 1990.
In his appearance at Glastonbury 2010 this past weekend, Ray Davies emotionally dedicated "Waterloo Sunset" and "Days" to his former band mate.
You can watch the performance here.