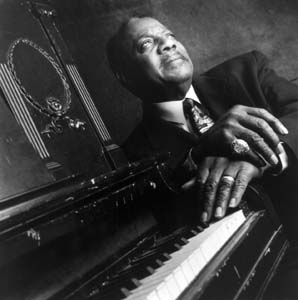 On this date in 1924, Johnnie Clyde Johnson was born in Fairmont, West Virginia. Arguably the most influential piano player in rock history, he would have been 86 today, had he not gone a-way.
Johnnie Johnson's move to St. Louis, Missouri in 1952 set into motion one of the most famous partnerships in popular music history. On New Year's Eve of that year, his jazz trio was playing a gig at the Cosmopolitan Club in East St. Louis. Johnson's saxophonist suffered a stroke. In a fix, Johnson called a musician that he knew had hardly any professional experience, thinking that individual would not be working on one of the biggest music nights of the year. He called, and the young man came to play.
His name? Chuck Berry. Adding vocals and showmanship to the group, Berry's version of Bob Wills' "Ida Red" got the attention of the Chess Brothers, who signed him as a solo act to their Chicago blues label. Johnson went with him and played piano on classic Berry track in his catalogue: "Maybelline," "Sweet Little Sixteen," "Carol," "School Days," "Roll Over Beethoven" and "Nadine" to name a few.
Johnnie Johnson and Chuck Berry toured and played together until 1973.
In 1987, Johnson was driving a bus in St. Louis. The film documentary of that year organized by The Rolling Stones' Keith Richards and directed by Taylor Hackford,
Chuck Berry
Hail! Hail! Rock 'n Roll,
brought Johnson in from the cold and allowed him to start making music again. A number of solo records and sessions with other notable players were released throughout the 1990s.
In 2001, Johnnie Johnson was
elected to the Rock and Roll Hall of Fame
after a long, concerted effort led by Richards and others. He died 13 April 2005.
Here's a great example of the blues and boogie-woogie piano style of Johnnie Johnson: