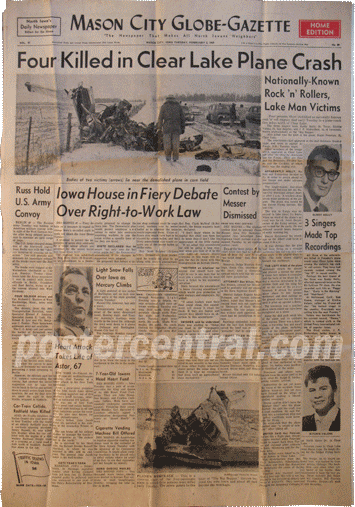 "Bad news on the doorstep."
Fifty-one years ago today, in Clear Lake, Iowa, rock and roll lost three of its pioneering artists in a plane crash. Perishing in a cornfield in the dead of winter were Texan Buddy Holly, Californian
Ritchie

Valens
and DJ J.P. "The Big
Bopper
" Richardson, along with pilot Roger Peterson. All three singers were riding the crest of a wave of music popularity.
Holly, who had already established a solid career at the young age of 22 with hits like "Not Fade Away," "Peggy Sue" and "Rave On," would become hugely influential in the careers of The Beatles and The Rolling Stones, among many others.
Buddy Holly & The Crickets,
"Peggy Sue" (1957)
Buddy Holly interview with Red Robinson, Vancouver, October 23, 1957.
Valens
, born Richard Valenzuela, was only 17 at the time, and had broken out with the rocking "Come On, Let's Go" and then topped the charts with the ballad "Donna." The teen would later be immortalized in the movie
La

Bamba
and his music would again be brought to the masses by Los
Lobos
.
Ritchie

Valens

, "
Donna" (live recording 1958)
Richardson, from Texas, had a novelty record called "Chantilly Lace" that gathered attention. What most do not know is that he was also the author of "White Lightning," a tune George Jones took to the top of the charts after the crash.
The famous odd-man out on the fatal plane ride? Waylon Jennings, whose playful comments with Holly about the cold and its potential effects on their respective means of transportation would haunt him until his death in 2002.
FURTHER LISTENING AND VIEWING:
The Rolling Stones perform Buddy Holly's "Not Fade Away" in a 1964 television appearance: